When we improve the lives of our girls, we improve the lives of our communities.
That's the goal of Cinderella Foundation. Through programs like Reading Rocks and our Leadership Bootcamp, we improve educational and professional opportunities for girls of color in the DC Metropolitan area. Through steadfast, loving mentorship, we inspire, educate, and empower new generations of community leaders. Through our commitment to the daily lives of the girls of the DC Metropolitan area and abroad, we build stronger, healthier communities and relationships.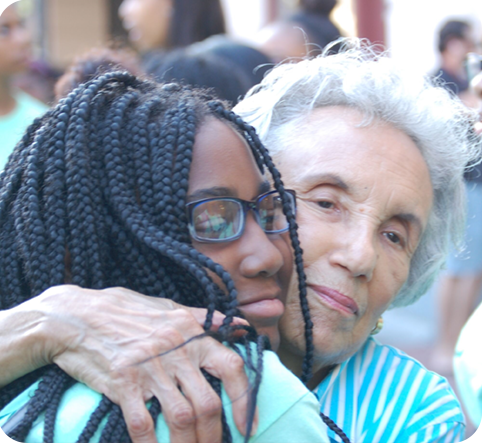 In the United States
A Cinderella Girl sings in your church choir. She's in your daughter's homeroom. You've run into her picking up groceries at your local store. She lives just up the street from you, and she's reaching out for love and encouragement.
At Cinderella Foundation, our goal is to make sure she's met with open arms.
We strive to lift up at-risk girls and help them develop into informed, well-mannered young women. And they do.
Through attention and compassion, Cinderella Girls transform from lonely, uncertain children into confident, competent women prepared to achieve success in all of their future endeavors.
A Cinderella Girl is tomorrow's future leader.
The work we've undertaken on behalf of these girls has been featured on NBC Nightly News, Fox Live, JET, and Black Enterprise. We also received a mention in Giving, President Bill Clinton's book on philanthropy.
"A great opportunity in life is to give yourself to others." Diane Stevens
In Sierra Leone
For more than a decade, the women of Sierra Leone, West Africa have suffered through a civil war that left many separated from their families and homes and at the mercy of rebels. Amnesty International reported that tens of thousands of women and girls who survived mass rapes, sexual slavery, and forced pregnancy continue to suffer as so-called "rebel wives." They have been denied access to health care, jobs, and education. In desperation, many are doing whatever it takes to survive on their own, even if it means prostitution.
In an effort to empower the women of Sierra Leone with the skills to support themselves and their families, Cinderella Foundation founder Diane Cole Stevens and six other stylists and volunteers visited the capital Freetown in 2007. They spent seven days training 300 women in cosmetology.
Diane and her team continue to provide training to the women of Sierra Leone. The Cole Stevens staff, members of the Cinderella Foundation, and members of the New Song Bible Fellowship Church traveled to Sierra Leone in 2007, 2008, and 2011 to motivate and empower hundreds of  women.